A
View of Chepstow Castle from
The Dell
.  On the wall of the Lower Bailey in the castle is a
commemorative plaque,
erected by members of the Kemeys family in 1935, which reads: "On the 25th day of May 1648 near this spot was slain Sir Nicholas Kemeys Knight and Baronet of Cefn Mably and Llanfair Iscoed Member of Parliament and High Sheriff of Monmouth and Glamorgan whilst defending this castle for King Charles the First against the forces of Oliver Cromwell."

Between the top of Bridge Street and Hocker(Hawker) Hill Street is the
Powis Alms House.
The plaque inset high up reads "THIS ALMSHOUSE Was Licensed and Endowed ANNO DOM 1716 By the sole Charity of THOMAS POWIS, late of ENFIELD in the County of Middlesex VINTNER A Native of this Town For the Reception and Maintenance of Six Poor MEN, and Six Poor WOMEN, Inhabitants of this Town And Parish for ever."  


   At the top of Hocker Hill Street is a building called
St Maur
. It carries a
plaque
recording that "in this house, then 'The Three Cranes' Horatio Nelson and party stayed 17-18th. August, 1802"



Some views of cobbled Hocker Hill Street where, at the lower end, is the Five Alls public house with its noted
inn sign
. 

The
Priory Church of St Mary
, was founded in 1071, also by William FitzOsbern. Benedictine monks from Cormeilles in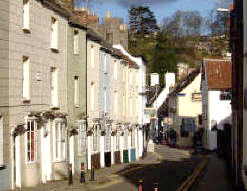 Normandy (Chepstow's twin town) were there until the Dissolution of the Monasteries between 1536 and 1540. Subsequently, the building has suffered, but still has a fine Norman doorway. On the north exterior wall of the church is a
tablet
"In Memory of Richard Sayes, of this Town, who departed this Life the 17 October 1774, in the 105th year of his age. (It can be seen, just left of centre, in the view of St Mary's Church from the churchyard alongside.)

seen 
here from inside
 (and
here from outside
)  the town wall,  was for long on the main road to and from South Wales. I well remember, as a child, travelling through the Town Gate in a Red & White coach on the way to visit my grandparents. Here is a view from the room above the
Town Arch looking up Moor Street.

A plaque, erected by the Chepstow Society,  on the wall of the white building to the left (south) of the arch draws attention to an
inscription above the doorway
recording "...the rebuilding of the Gate House in 1609 by Mrs Margaret Cleyton, a notable Chepstow resident and benefactress to the town. She lived here until her death in 1627. Her elaborate tomb is in the Parish Church". Another plaque, on the wall of the
White Lion public House
states "White Lion circa 1644 established as a coaching house".

Beaufort Square 2 November 2005