William James and Alice Jane Bass lived at 40 Elm Street, Cardiff from about 1912 until 1953. William James' parents, John and Susanna (nee Norman), had both been born in Topsham, Devon but moved to Cardiff shortly after the birth of their first child. The date was probably about 1870. Alice Jane's parents, Lewin Thomas and Mary (nee Crosse) Oak, had also both been born in Devon, moving to Cardiff some time before their marriage there in 1877.
<!- col 1 -->


William James Bass


Lewin Thomas Oak with his wife Mary (nee Crosse) and three daughters. The one in the centre died young.


Mary Cross in Service 26 Mar 1875 (aged 22 years)


William James ("Bill" Bass and his wife Alice Jane on Porthkerry beach (with the tide out!). His shorter left leg, caused by the tuberculous hip joint, can be clearly seen.

<!- col 2 -->
<!- col 3 -->


Alice Jane Oak


William James and Alice Jane Bass in the late 1940s.


Clare Bass, William James's sister.


A Taylor/Shields wedding photograph circa 1920. W.J. and Alice Bass are at the back on the right. Clarissa Taylor (nee Bass), W.J. Bass's sister, is at the back, second person from left. I deduce that the girl in spectacles at the front right is Hilda Bass and her two sisters, Edith and Annie are on the left at the front.Taken at 18 Plasnewydd Road, Roath, Cardiff?

<!- col 4 -->
<!- col 5 -->


Ann Bass

Ann, Hilda, and, seated, Edith Bass with Ann's future husband, Ernie Williams


Thought to be Hilda, Edith and Anne Bass c1913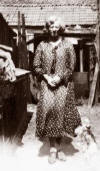 Alice Jane Bass (nee Oak) in the back garden of 40 Elm Street, Roath Cardiff.